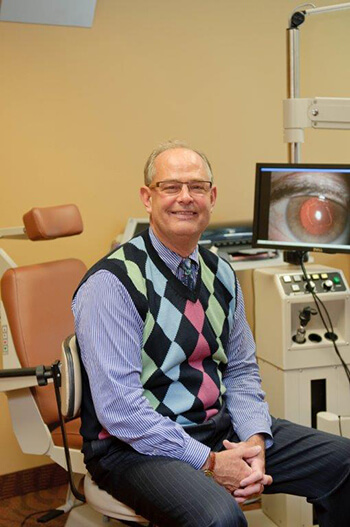 Dr. Sealock began practicing at Four Seasons Eye Care in 1987 in Plymouth, MN, specializing in behavioral and rehabilitative therapy, vision therapy, closed head trauma, as well as primary care optometry, contact lenses, surgical co-management and ocular disease. Four Seasons Eye Care Plymouth serves as a referral center for optometry, ophthalmology, family medicine, neurology, psychology and learning disability centers both private and public.
A graduate of Valley High School in West Des Moines, Iowa and Iowa State University, Dr. Sealock obtained his Doctorate of Optometry from the Illinois College of Optometry in Chicago, IL. He completed two externships. State University of New York Optometry College in the area of diagnosis, management and treatment of vision related learning disorders and his second in diagnosis, management and treatment of ocular disease at the Westside Veteran's Hospital in Chicago, IL. Dr. Sealock was awarded the Charlotte Porter Award for outstanding clinician in the area of binocular vision, the Syntex Award for outstanding clinician in contact lenses, and the Gold Key for outstanding leadership and achievement.
President of the Minnesota Board of Optometry from 1991-1999, Dr. Sealock has also served as the pediatric consultant to the Minnesota Optometric Association, a Clinical Examiner for the National Board of Examiners in Optometry, the national consultant for the BMC Vision Ease Corporation, and a clinical investigator for the Unilens Corporation and Ciba in the development of bifocal and progressive bifocal contact lenses. Dr. Sealock published and presented clinical research at the American Academy in Atlanta, GA involving Teller Acuity cards for infants and non-verbal assessment of visual acuity, and was instrumental in design and development of a new school screening for elementary children for the state of Minnesota. He also serves as a vision consultant for closed head trauma patients and as an expert witness for binocular vision legal cases.
Dr. Sealock was selected as an Allergan Guest Lecturer from 2012- 2014. He frequently lectured on New Insights on the Risk of Ocular Surface Disease, Initial Treatment Ocular Hypertension and When to choose a Combination Glaucoma Treatment.
Dr. Sealock was a Vision Consultant for Shakopee Mdewakanton Sioux Community for the development of a primary medical/vision clinic, services for educational management of diabetes and outreach programs for the Native American population promoting better health.
Dr. Sealock was a Vision Consultant for Head Trauma Patients for Courage Center in Golden Valley, Minnesota and several insurance carriers in the formation of diagnosis, management and treatment protocols for sustained binocular vision disorders resulting from closed head trauma.
Dr. Sealock has served in the capacity of legal expert requiring design of rehabilitative services entailing assessment of quality of life for severely visual impairment to secure independent status, The cases required management of Craniopharyngioma sustaining visual impairment, Abdominal Compartment Syndrome sustaining severe vision impairment and Corneal ulceration leading to corneal graft.
Dr. Sealock completed his fellowship of the American Academy of Optometry in 1990 and was appointed to the National Business Advisory Council and awarded the National Leadership Award in 2002. Dr. Sealock completed his Diplomate to the American Board of Optometry n 2014. Dr. Sealock was awarded Top Optometrist in 2018. Dr. Sealock was selected for the TRUETEAR Advisory Board 2016-2017. Allergan introduced the first FDA approved neurostimulation device – a new frontier in dry eye treatment.
Dr. Sealock is a member of the American Optometric Association, American Academy of Optometry, Minnesota Optometric Association, Metro Optometric Society, and the College of Visual Development and Optometric Extension Program.
Dr. Sealock and his wife, Jennie, reside in Plymouth, MN, with their four sons Bryce, Grant, Tyler, Spencer and daughter Kelsie.  He enjoys fishing, hunting, boating, skiing, golfing and other outdoor sports.